SQL Query Builder component
Visual Query Designer, SQL parser and data retrieval assistant
Visual component for WinForms .NET, WPF, ASP.NET, Delphi/C++Builder, ActiveX and Java
Active Query Builder is a full-featured component suite for software developers. It includes:
A Visual Query Builder component to design SQL queries via the intuitive visual interface.
An SQL Query Parser to build SQL query object model of any given SQL query.
An SQL Text Editor with code completion and syntax highlighting.
A highly-customizable SQL Query Text Formatter.
A powerful SQL Query Builder API to modify existing and create new SQL queries by the code.
A set of components to build feature-rich data browsing UI with data filtration, sorting and pagination.
A set of helpers to connect to different databases and execute SQL queries against them.
Active Query Builder supports dozens of database servers and various generic SQL standards.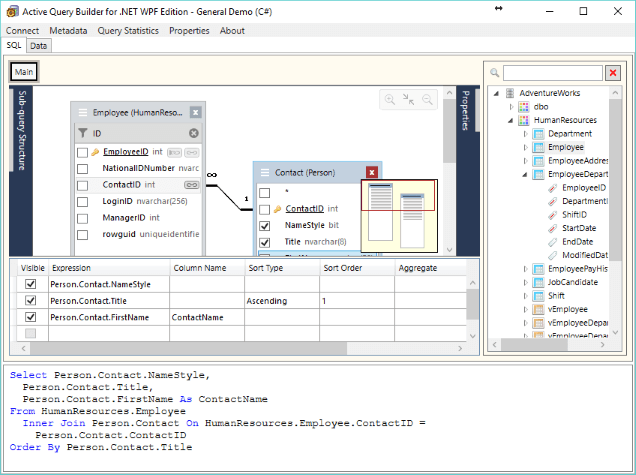 Active Query Builder is ideal for SQL professionals who need to get data for ad-hoc reports or extract data from an external DB which structure is not known beforehand.
Active Query Builder gives the end-users a clear view of their queries and database schema. It lets instantly catch the structure of a given query and start thinking of the result data, not about the query. It is an ultimate helper for everyday work with SQL queries!
With users expecting better and better interfaces to deal with complex data retrieval, Active Query Builder has allowed me to provide a highly professional, robust environment to both novice users and skilled query writers.

Thanks to all the team involved."

Rating: 5 out of 5

Duncan Deacon
Key advantages of Active Query Builder
Get Active Query Builder for your development environment: