We're glad to announce the new version of Active Query Builder ASP.NET Edition. You can evaluate the new version by requesting the trial. Customers can download the new version in the Customer's area.
What's new in the Active Query Builder ASP.NET Edition version 1.1?
The new CriteriaBuilder control is made for visual composing of criteria.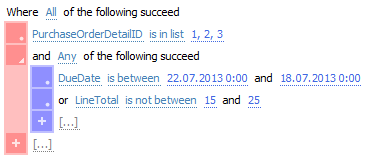 It is made on the basis of the QueryTransformer component. The QueryTransformer component was made to ease changing of sorting, add filters, limits and aggregations in the query.
The development of CriteriaBuilder control will be continued. In the next version it will be able to display lookup data instead of their values for referential fields.
Check out the new article in the Knowledge Book describing the client-side JavaScript API.
We'd love to hear from you any suggestions and comments about both QueryTransformer and CriteriaBuilder components.
Other improvements since the version 1.0:
Field lookup list in Expression column of the Query Results Grid is improved.
Search by typing in inline cell edtor is made. Jump between search results using the Up and Down arrow keys.
Installer: Visual Studio 2013 Toolbox support is added.
The new sample project "MVC Razor Query Results" is added.
Other minor fixes and improvements are made.